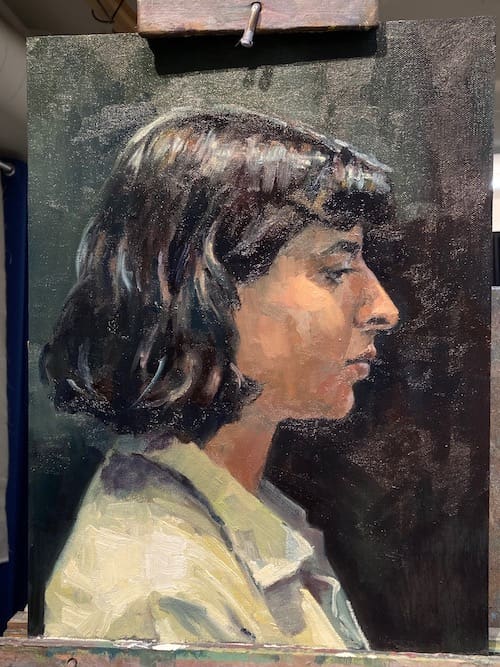 02 Jun

Portrait workshop with Lewis Miller
Oil portrait workshop with Lewis Miller
DAY ONE
Tuesday, May 24 2022 1.30-4.30
In the introduction, Lewis showed us how he starts a portrait by drawing with charcoal, working out the proportions and being able to make adjustments as needed. He then set up his palette, placing the paint on the outer edge of the palette to allow mixing on the inner part. His colours were burnt sienna, pthalo turquoise, turquoise, ultramarine, cadmium scarlet, alizarin crimson, cadmium orange, yellow ochre, cadmium yellow, naples yellow and titanium white. There may have been a few others, (a violet) but basically that.
I blocked in using quite thin paint and a lot of solvent, and even though we were advised to leave some of the white, I couldn't help myself, as there was a lot of dark behind the model. Lewis also gave us his medium recipe, he said to use gum turps, with a 5% each of damar varnish and stand linseed oil, and he uses this from early on in the painting process.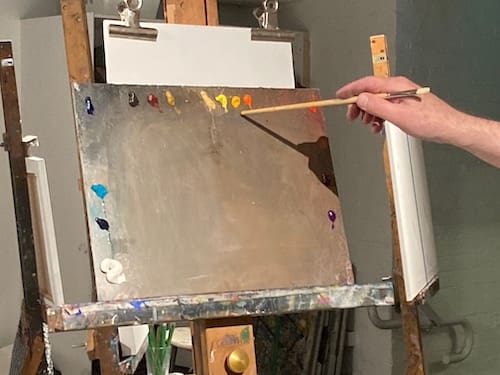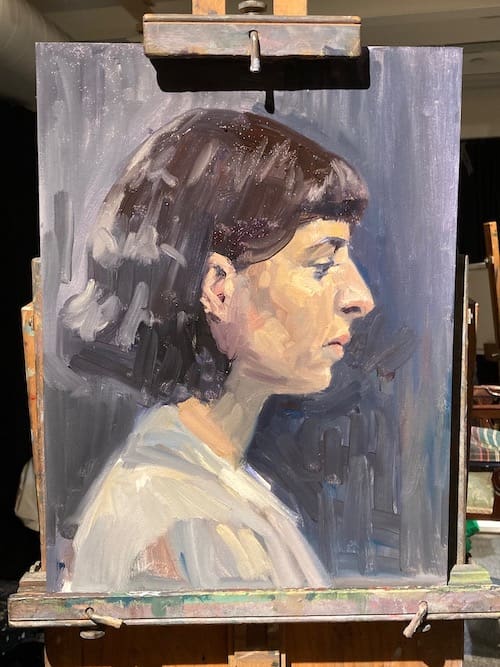 DAY TWO
Saturday, May 28, 2022 1.30-4.30
Lewis gave us his tips on colour mixing, advising us to always put some of the complimentary colour even when a colour looks pure.
I got some more tones and colours in, but at the end of the day, I thought I had gone too smooth, and decided to break up the colour and planes. Lewis also advised me to break up the background a bit, as the brushstrokes were all going in similar direction, to use a larger brush and bring in some differences there.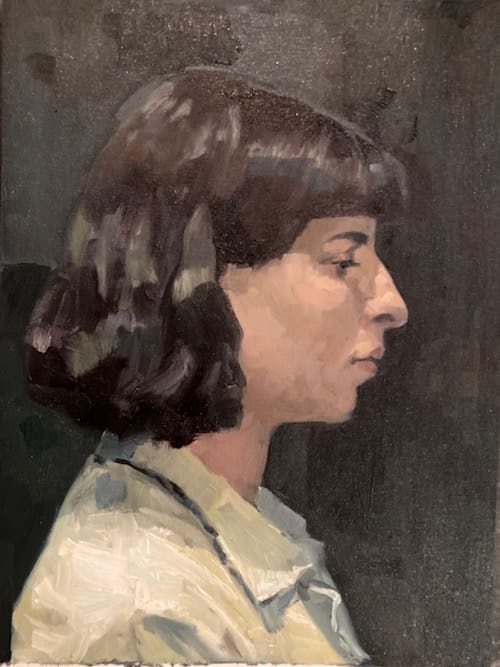 Sunday, May 29 2022 1.30-4.30
DAY THREE
On the final day, Lewis did a demonstration of drawing a skull he brought with him, and then using our model Zofie for reference, he drew the features over the skull drawing, talking us through the process as he went.
I resolved to mix a range of colours with my palette knife, so I could more easily see where I could break up the planes of the face with better colour choices. The lighting was different again, but it was actually good to have a definite change to make, so I came in with some of the changes early on. Looking at getting the tonal changes in the hair to work better, and to allow the golden skin of Zofie's skin to show, even though there were only two spots on her face (the checkbone and the tip of the nose) that had any direct light.
I think I'm reasonably happy with the results, and was chuffed when Lewis commented on Instagram that I "done good". Judge for yourself!